Passengers on a train from Kiama to Sydney were in for a slithering surprise on their commute last night, after a snake was spotted in the luggage racks on a train.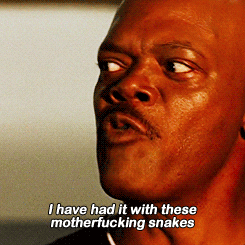 Clearly shocked at what they had seen, passengers alerted NSW TrainLink staff and were instructed to move carriages, while the harmless children's python hitched a ride as the train approached Wollongong.
Lucky guy got his own carriage and didn't even pay his fare.
A NSW TrainLink spokesperson reflected on the 'snakes on a train' drama:
"Customers were moved from the carriage which was then locked off and arrangements were made for a snake handler to meet the train on arrival at Central Station," they said.
"The train arrived at Central at 9:02pm and the snake was located on a luggage rack of the carriage before being taken away by the snake handler who's now looking after it."
They issued the following tweet:
An unusual customer on one of our #SouthCoastLine trains this evening! #snakeonatrain (our mate was unharmed and taken off for relocation 🐍) pic.twitter.com/Mq80ZqZQDt

— Trains Info (@TrainsInfo) April 18, 2017
Hopefully, he got to the destination he was heading towards. The unexpected snake sighting follows a similar incident last year on a Central Coast train when police confiscated a low key metre-long python being carried by a passenger. As you do.
The lols to be had from this kerfuffle are too damn obvious, but we'll just leave this actual (straight to DVD) movie poster right here…