Top 10 unlikely musicians on the dubstep bandwagon
Ah, dubstep. Not since Hitler bombed England has there been such a deliberate, explosive, whomping grab for our hearts and minds. The British art form has mutated its way into a typically bad American copy ('brostep') and made a definitive jump into the mainstream. We're honestly surprised AJ Maddah didn't get Magnetic Man down here for Harvest, that's how bloody popular it is. With the Parklife announcement just around the corner – and they had a killer one-two punch of Flux Pavilion and Nero last year – we investigate the most unlikely artists to have wub-wub-wub-wubbed their way into the zeitgeist.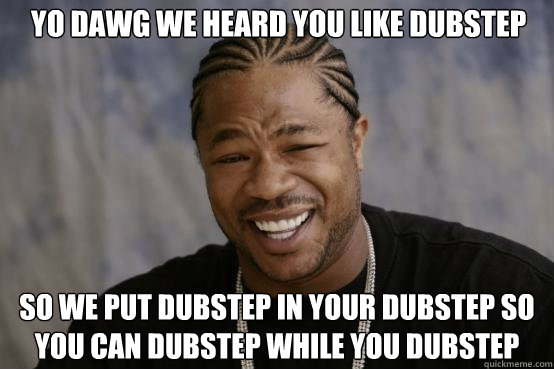 --
10. KoRn
Of all the musicians listed here, Jonathan Davis' cockroach of a band (namely, it refuses to die) is probably the least surprising when it comes to embracing the bro-step. Skrillex is about as abrasive as anything on 'Follow The Leader', and now that most nu-metal pioneers have become massive cry-babies and/or Jesus freaks, it seems like the logical sound to take its place as The Genre Your Parents Love To Hate. The thing is, KoRn didn't just do a one-off dubstep collaboration. They did a whole freaking album of them. It's called
The Path Of Totality
and it came out last year and I just put it on for like 2 seconds and both my brothers laughed at me.
9. Gotye
'Our Gotye cruisy dubstep remix, we've been working on for a while now, we really tried to keep the angst and emotion behind the amazing original, we hope you enjoy it, we're really happy with the track and suggest a few listens with your subs on ;)'
For the record, Bombs Away, my subs are always on. I sleep with subs warming up for the precise moment when I need to pump up the bass. This isn't one of them.
Poor Wally/Wouter/Wout-Up-How-Big-Is-My-Bank-Account took pity on the thousands of Internet warriors reworking his song and will #soon release an entire remix album based entirely on 'Somebody That I Used To Know'. This rendition isn't going to be on there, mainly because there is no such thing as cruisy dubstep. The idea that there's space between the bass notes is apparently meant to make this a completely different approach from the rest of the bros out there, but somebody should have told them that jamming the xylophone ostinato into a blender is not going to win you any favours. The main riff is seriously offensive, so I assume when they say they're capturing the emotion of the original, what they mean is they're capturing their girlfriends, locking them in the back of a trunk and driving them off a bridge. Oh wait, that's another angsty pop song….
8. Cypress Hill
Once again, the ability to be angry puts anyone in the frame to empathise with bowel-shattering bass. But Cypress Hill are known for being a bit more refined than that. Even when Rage Against The Machine amped up 'How I Could Just Kill A Man' on their
Renegades
album in 2000, it still seemed to serve some sort of purpose. But teaming up with Rusko (that's the guy who fights with everyone all the time, except Diplo) on an EP was not supposed to be part of the script. If dubstep devours classic hip-hop, we're all in serious trouble. Also, smoking heaps of bongs and listening to hyper-processed, chainsaw synths firing off like canons cannot possibly be fun for anyone who isn't writing a
Vice
article.
(Continued next page)