Leigh Sales destroys Tony Abbott - the second-by-second recap
Last night Tony Abbott went on the 7.30 Report. We remember how well that went two years ago when Kerry O'Brien skewered a man we still thought of as the least capable, most unelectable Opposition Leader this country had ever countenanced. Well, that was pretty much the last time anyone in Australia pushed Tony Abbott to say something concrete. Until last night. And didn't he just collapse like a paper cup being hit with a mallet.
The result is 12 and a half minutes of painful (but thoroughly watchable) digression, admission, hedging, inconsistency and general inability to answer basic questions. The thing is, I don't even think Leigh Sales was pushing particularly hard here. Abbott simply cannot function in an uncontrolled environment. To quote George Costanza, he's "like an old man trying to return soup at a deli". And also, in all likelihood, our next Prime Minister. Quake, people. Quake in your shoes.
So, to celebrate, I have done a second by second recap of the biggest political interview disaster since Todd Akin diversified the rape lexicon. Which, admittedly, happened on Monday. I guess I'm just saying it's been a good week.
It starts slowly, but when it gets going it's like really ugly, disdainful poetry in motion.
0:11: He got through the greetings without too much drama. 1 point for Tony!
0:15: Well, the mood changed fast.
0:40: Yes sir, Tony is still here for that game of lawn bowls you promised. He's like the innocent bunny, cavorting in the field, unaware that a plane flying overhead is about to drop napalm all over him and his family.
1:30: Is it just me, or is he beginning to actually speak more and more like John Howard?
2:15: Ah, so this is why they don't let him appear on Q&A.
2:25: Political oratory is alive and well in this country. He's seconds away from dropping an "I have a dream", I can tell.
2:43: Beginning of the end.
3:00: He actually looks like Muppet here. There's something about that smile that has no resemblance to an actual human's. I have seen porcelain dolls with more natural charm.
3:05: You look me in the eyes and tell me he doesn't come across as an Igor who's realising that he's gotten in a bit over his head while master is out of town.
3:24: "I bleed for the people of South Australia tonight." You know, I reckon cutting yourself wouldn't go astray here Tony. Would certainly divert attention from the rest of the crumbling edifice. Although, this goes, I guess, with the blood promise that Tony Abbott has made to repeal the carbon tax, a tax which, as yet, has had as much impact on our economy as your average piece of 50 Shades of Grey fan fiction.
3:45: Leigh Sales, I could kiss you.
3:49: I never want to have an erotic thought again. "Leigh, I've been reading what they've been saying for the last few months". Damn right you have Tony. That's why you're kicking ass right now with FACTS.
3:58: Fuck it, Leigh. I'm upgrading it to full pash status now.
4:08: "Uh, Leigh". That is definitely Tony's catchphrase of the night. Doesn't it just inspire you? Such defiance!
4:15: What do you reckon his hands are doing right now? I reckon they're picking at his cuticles a la Natalie Portman in Black Swan.
4:40: "It is a python squeeze, not a cobra strike" One is tempted to ask the same question about this interview.
4:48: Ah, definitely cobra strike.
4:50: "Well, uh, I think we can say that, uh, in some ways at least, the postponement of Olympic Dam is the biggest victim so far of the new taxes that this Government has put in place." This being the exact topic area that you lost so comprehensively over the first five minutes of this interview. I have seen sodden toilet paper with more consistency than this.
5:10: YOU'RE TAKING A WRECKING BALL TO THIS INTERVIEW LEIGH.
5:20: Right now, Tony Abbott looks like he's reading off cue cards from a foreign language TV show.
5:45: That question took less than a second to ask. It's less cobra strike, more HOLY SHIT RAPTOR WITH A RPG RIDING A SHARK.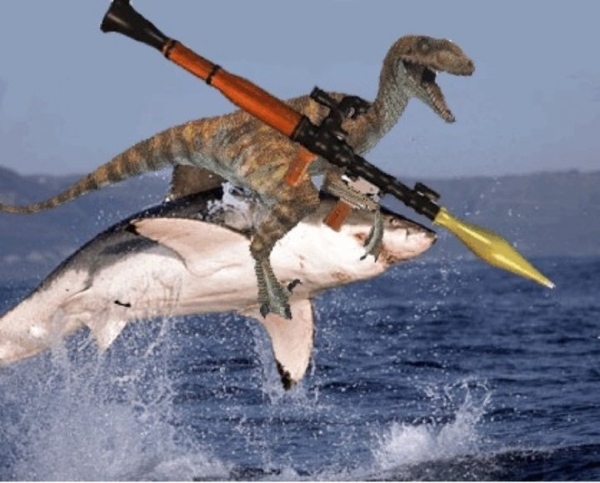 6:00: Pretty much the first cohesive thing he's said.
6:20: BRB Googling smackdown GIFs
6:56:
7:07: Oh yes. Equivocate some more. It's a yes or no answer, Chachi.
7:12 People should COME to Australia through the front door, not the back door. COME. Anybody? Anybody?... I'll let myself out.
7:22: Pash with some sexy touching. The offer is on the table, Leigh.
7:25: HAAAAAAAAA. NO. NO. HE'S GOING TO BE THE NEXT PRIME MINISTER. HE HAS THE DEBATING TALENTS OF A PIT OF ASPHALT. THIS IS LIKE WATCHING ONE OF HIS CARTOON CARICATURES COMING TO LIFE.
7:40 Dem ungrateful immigants. Demanding a place to try and raise their families. They should be happy we're not just sinking the boats out at sea.
7:54: I think this is the longest he's spoken all interview. There's something about that wandering drone that makes me feel actively dumber.
8:10: Fuck me. She has this one so squarely in the bag I'm surprised they didn't cut back to her kicking back with a gin and tonic and a straw hat.
8:28: No, Tony. No. Oh God, you're trying to charm her. It's like seeing an over-enthusiastic 4-year-old trying to curry favour with his mother by finger painting on the walls.
8:32: Subtext: You can send the Walkley to my home address.
9:05: He's doing it again. It's as if he thinks he can still win her over. But instead it's like that race at the Olympics where an athlete from a really unlikely country competes in an event that their country should not be competing in and they take a really long time to finish but by the end everyone in the stadium is clapping them along because gosh, isn't it nice to see them compete? Yeah. It's exactly like that.
9:14: That barely suppressed disbelieving laugh (also known as the only close to human trait he has) is enough to make me want to remove his vocal chords with my bare hands. Through his feet.
9:29: A full night, just me and you, Leigh. I haven't enjoyed an interview this much since that CNN interviewer got
inadvertently dismantled by the potentially autistic spelling bee champion
.
9:40: And for my next trick I'm doing a triple ninja kick flip over a vat of crocodiles. Because I'm Leigh goddamn Sales.
9:51: Translation: meow meow meow meow meow meow meow meow meow meow meow meow meow meow meow meow.
10:01: An answer that vague would barely be permissible to the question "How are you?"
10:06: Full circle mutha flippers.
10:40: Very proper questions delivered by the PR arm of the Liberal Party.
11:05: Imagine it. Three years. At least. Of that. Every day. Meeting foreign leaders. Being our public face to the world. Telling us what Australia is and should be. It's pretty much the worst thing I can imagine. And I've had cancer.
Twice
.
11:18: He drops her name when he's making weak points as if he expects to get bonus marks for remembering who she is. Which would, I guess, be the only concrete thing he's said all interview.
11:27: AHHHHHHHHHH!
12:32: Subtext: I'm about to cry and I need to lie down. Oh, I could listen to that "thank you" for days. It's like hearing someone thanking their dominatrix for the beating. And on that note, I kind of feel like a cigarette.