Australia's own self-appointed fitness guru Ashy Bines, of famed newsfeed clickbaity transformation program the 'Ashy Bines Bikini Body Challenge', has posted on social media berating American plus-size model Tess Holliday for setting a unhealthy example for young girls, instead of encouraging a healthy body image.
The post positions Holliday next to a very underweight model- deeming neither body images as good role models and stating that they shouldn't be praised as such.
Her post includes:
"I know this may cause people to get upset. But something id like to speak about and don't mean to offend anyone at all," she said, then referring to the two images below. "The girl on the left is obviously underweight – yes she maybe genetically small but it's pretty obvious she is not healthy and has not been eating a well balanced diet and would be on 500 or less calories a day to achieve her body – nor is she a good role model for young women."
And,
"The girl on the right I've seen in recent articles and apparently is an " inspiration" to the younger generation- I also think she is not a good role model for young girls. Thin girls are slammed ALOT these days but females who are carrying more weight than what they should for there bodies, organs, moods, bones, cells etc to be " healthy" are now inspirations because they are confident in their swimsuit? I think it's FANTASTIC she feels comfortable but at the same time I don't think it's a healthy body image that should be applauded.

"I'm not saying either are "ugly or ANYTHING like that" just don't think either are healthy role models and shouldn't be given praise."
Her comments have received over 4,000 likes on Facebook and over 9,000 likes on Instagram. Responses for the post ranged but were mainly supportive- but a few said that by putting the images together, this could be a form of bullying against not only Holliday but the other model that is being used as an object in an argument.
The model in question was actually Brazilian fashion model Ana Carolina Reston who died in 2006 of kidney failure, weighing just 38kg.
The post also doesn't consider the context of the time, that for years a body shape such as Holliday was completely invisible and often exiled within mainstream modeling body types.
Funnily enough, I have a strong message to Ashy Bines, which is "wrong body lol fuck off". https://t.co/sAvENReqyR

— Mia (@themiasandrist) February 23, 2016
She also fails to recognize the role and responsibility of the 'Ashy Bines' name within that context- a brand that encourages women to constantly strive to achieve often impossible body size results and neglects to feature any real form of body size diversity in posts. A brand that charges women hundreds of dollars to access her "clean eating diet plan", and promotes a diet that was rated by the Dietitians Association of Australia as "one of the three worst diets in the country".
While not Bines' direct responsibility, one thing that has come from her post on Instagram was some disgusting language by commenters used to describe Holliday- a person that despite Bines' oversimplified terms, has heard her rather unfair share of criticism and abuse.
It is a valid argument, that an emerging trend affecting women is the tendency to call attention to "skinny girls" as unhealthy because they lack the desired curves. But to attempt to say that society is becoming more accepting of apparent 'overweight' women over 'underweight' and this is detrimental to young girls development is blatantly untrue and unsubstantiated.
Bines came under fire last year after several of her 'clean eating' recipes were found to be plagiarized from other websites.
I wonder if Ashy Bines thinks that posting pictures of women's bodies on the Internet and criticising them is the path to "health"

— Ally Garrett (@allygarrett) February 23, 2016
Holliday gained notoriety after she started the #EffYouBeautyStandards movement- which had over 1 million posts. She spoke with Huffington Post last year about how the lack of body-shape diversity when she was growing up affected her mental state.
"I wish things like this were around when I was younger," said Holliday. "I was really self conscious as a kid, I felt terrible – like a prisoner in my own body."
Regarding plus sized women, she said:
"We often get pushed to the corner and people don't really pay attention to us or take us seriously – it's really frustrating," adding "It's detrimental to young women to not be able to look at a fashion magazine or TV and see someone who likes like them because the reality is, we're all different."
Bines had since responded to some of the controversy yesterdays statements has attracted. Posting today:
"With yesterday's post I understand it may upset some but I really wish everyone would see my message is not from a evil place – I was also unaware the girl on the left has passed away from kidney failure," said Bines. "I never said Tess is not a beautiful women – she is gorgeous – I think we are all beautiful – my point was about HEALTH so I suppose naturally people will attatch (sic) their own meaning and emotion on it and that's out of my control. Out of the ovet(sic) 1700 comments I would say 95% agreed with me and thanked me for speaking out.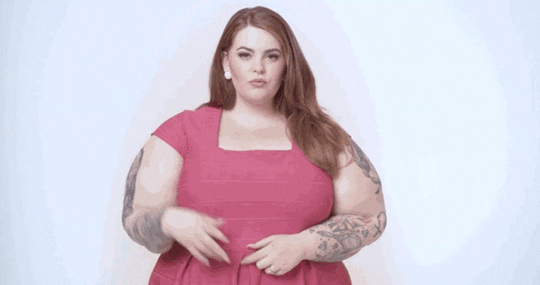 Unfortunately part of being in the spot light big or small people are always going to love you or hate you and there's nothing anyone can do about that. They will also all have their opinions on you and that's something I have learned to live with and I'm sure Tess too. My job/ passion isn't to PLEASE everyone – it's to live my passion and my passion is inspiring and helping women to look and FEEL their best by living a healthy lifestyle and I will stand by that."