Yep – you read it right – Sophie Monk is officially the Australian Bachelorette for 2017, and good God, think of the recap material!
Following a series of rumors, and some panicked conversations we've shared with channel Ten's publicity department this week, the news can finally be shared. It comes just as the TV Week Logies get underway in Melbourne this evening. Timed to bloody perfection. This isn't Ten's first rodeo.
The official Facebook page for the Bachelorette Australia uploaded the following statement this afternoon, gaining thousands of polarising comments. The statement reads:
Australia, we're thrilled to introduce our Bachelorette. Sophie Monk will join us in 2017 as she sets out to find an honest, kind and real Australian man to spend the rest of her life with.
Our initial thought about Monk being on the dating program was a collective eye-roll. It's easy to dismiss her legitimacy, but after considering it, we're kind of digging the idea.
For starters – CAN WE PLEASE NOT FORGET THAT SHE STARRED IN A BLINK 182 VIDEO CLIP. Holy Shit. It's an audition tape in itself:
Her recent stint getting grilled by Tom Gleeson (where she seemed to intentionally highlight her singledom) is a pretty good example of her lovable, self-deprecating and 'very blonde' personality. Not even Gleeson could maintain his 'HARD' act with some of her hilarious banter. There's no doubt we'd have a lot of fun recapping some of the bonkers, dumb and completely random shit that would dribble from her puffy lips.
We've also already found a new dirty kiss graphic and sound effect for our video recaps:
On the other hand, it's Sophie Monk. Sure, she might also qualify for the role via her feature in classic Hollywood family flick 'Date Movie' (lol) – but she doesn't exactly have the same wholesome, 'girl next door' vibes that we loved about national treasures Sam Frost and Georgia Love.
For example: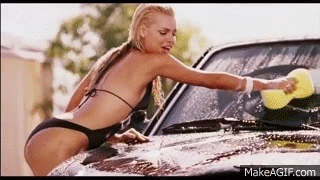 I'm still unsure. I think I'm into Monk getting a guernsey, but is Australia ready for our first celebrity contestant? Could Ten have turned this into a celebrity Bachelorette… agghhh so much to consider.
Let's just get this show on the road and begin this year's car-crash TV mayhem!
🔥 VERY IMPORTANT FOOTNOTE: I found this awesome GIF of Sophie Monk via an image search and it was too good to not use.  There is 100% no context for it but I think you'll equally agree that its existence is a blessing to us all and a start of all the greatness soon to come our way: