Contestants on Channel Seven's controversial partner swapping show 'Seven Year Switch' have spoken out, saying that they've been stitched up and made to look like fools. So, should we feel sorry for them?
One couple from the show's first season has spoken out, saying that they didn't even realise 7YS was a reality TV show. According to them, it was supposed to document their experience traveling away together for counseling sessions trying to repair their love. Because that sound like gr8 TV!!!
This was obviously wishful and naive thinking, considering they were no doubt forced to sign their life away to a TV network, granting them to do whatever they want with the footage.
But according to Michelle Guest, who appeared on the first season of the program, the stitch-up went as far as telling them that the program was called 'Relationship Rescue'. It's probable Seven had the right to pivot the name and concept of the show without even letting them know depending on what was agreed on.
In an interview with Mamamia's TV podcast The Binge, Guest said producers "assured (them) it was not going to be a reality television show".
"We didn't know we'd be partner swapping. We thought we might be going away together … maybe counselling sessions together," she said.
Their presumption that the show would come out like an investigative documentary was well and truly naive.
"It wasn't until a little bit later in the process we realised we weren't actually going to be together for some of it, she said"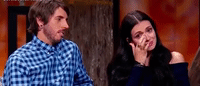 Guest reckons they didn't find out that the name of the show was called 'Seven Year Switch' until it went to air. The whole experience ultimately led to the end of their relationship.
" … Who in their right mind would go onto a partner-swapping show?" she said.
If true, the couple were majorly sucked in. The premise of the show grabs miserable couples and shakes things up with some spontaneous, contractually obliged polygamy. This equals brilliant car-crash TV, drama, and lives that fall apart for our brief momentary amusement.
In the podcast she clarified that this season is fundamentally different because the people on it "know what they've gotten themselves into".
Having now split with her bae Jason, it's a cautionary tale to watch reality TV and not necessarily put yourself on it. Yes, we feel sorry for them and what they've endured. But let this be a lesson to you – when you sign on the dotted line, you can bet the producers will pull out all stops to create drama without any consideration of your feelings.