We open this weeks ep, with the ladies screaming a firey vengeance at Pettifleur. FUN. This is mere moments after Pettifleur rejected Gamble's invitation to her wedding. Well, yep. Why did you do that you Petti-jerk?!
Gamble is furious in the kitchen and says she doesn't know what's wrong with Pettifleur and that she was extending an olive branch- she wanted her olive branch to become a tree so they can all roll about in a bath of olives. Jackie and Janet comfort Gamble. Gamble feels hurt and put down in front of everyone.
Gamble doesn't know what to do and cries, which is heartbreaking AF to watch. It's like seeing a slightly drunk and deranged Bambi cry. PLEASE. STAHP.
Pettifleur explains herself, saying, "She's been trashing me, so??" But when?
We flash back to the argument Lydia caused earlier in the day, when she said no one liked Pettifleur and Gamble jumped in confirming their hatred. Oh yep, that one.
Chyka says she still should of taken the invitation anyway. But to be fair, even if Gamble had gutted Pettifleur like a fish, leaving her bleeding on the ground, Chyka would still say she should of taken the invitation. Rude not to! Chyka calls Pettfleur strange.
They ask what Pettifleur wanted from Gamble? For her to beg? A Pettifleur-themed parade? A pet polar bear to match her many outfits? Gina says Pettiflleur just wanted validation and a whole tray of lasagna. FUCKING GREEDY.
#teamgina #rhomelbourne #arena #foxtel xxx ? https://t.co/7x0uZtB83z pic.twitter.com/plB0lFLUjf

— Gina Liano (@Gina_Liano) March 13, 2016
Lydia thinks she picked the wrong time. Jackie storms outside and attacks Pettifleur and they all jump in for a bite of delicious petti-flan.
Pettifleur feels shit as she was told by Lydia everyone hates her. She is about to storm out but then Gamble being the delightful creature she is, somehow fixes it all.
"I just want her to come in and have a good time and get out of her own ass," says Gamble. It's very touching. They hug. Pettifleur says she will accept the invitation because of the hug. She must not get hugged much.
All of a sudden everyone is crying and Janet and Lydia are hugging. Lydia says she feels responsible for everyone falling out.
YOU DON'T SAY, LYDIA!
Janet thinks it's all lies and doesn't buy Lydia's tears. Susie also thinks Lydia is all bullshit…calls her a cat that lands on her feet. She hates Lydia and seems to hate cats as well. WHO THE HELL DOES THIS CHICK THINK SHE IS?
We open back in the city with boats and boobs, we are in the Emporium at IM Lingerie with Gamble and Gina- Gamble is trying on her wedding night lingerie.
She is looking S.T.U.N.N.I.N.G.
Gina feels a connection with Gamble, so they try on S&M stuff just for funzies, as bff's do. Gamble says Wolfie is not her lapdog, because she is Gina's lapdog now. The total cost of all the lacey fabric wear is $2075 dollars. Yepppp. Gamble says she better make it a good night; meaning Wolfie pays her in cash.
We are at Janet's house now and Brian is over (whyyyy???). She says she is hosting a family dinner but Brian is cooking, and calls this 'gender-reassignment'- it's the second time this show has no clue what the definition of anything actually is. Janet says she has been diagnosed with PTSD, catalyzed from her son Jake terrible burning accident a few years back. It's all very sad and tragic. Brian is being sweet and kind until he asks if it affects her sex drive.
Brian is also wearing this:
Then Brian decides to blame Janet's PTSD on them breaking up – despite his incessant cheating. Surely that was just for shits and giggs. They hug but Brian is still being a big sleazebag.
The old fambam Fiora, Troy and Paul come round. Brian's cut his hand while cooking so all the food is garnished with Brian's blood. Everyone makes fun of Brian's rubbish cooking. It tastes like sadness.
Janet tells the kidlets about her PTSD diagnosis. Jake says he thinks sometimes the parents deal even worse with trauma, it's awfully sad and too damn earnest for this show.
25% of people get post traumatic stress disorder. This is a serious issue, if you've endured something traumatic I urge you to reach out xxx

— Janet Roach (@JanetRoachHW) March 13, 2016
Brian wants to lighten the subject, brings up the damn happy ending AGAIN. It's some fucked up family conversation. He even says that during said 'happy' encounter, he yelled out 'Janet' when it happened. Who says romance is dead?
Ooooo. Oooooo. Oooooo. O' BRIAN!
We are at Lydia's house and Gina is coming over. Gina compares their friendship to Stockholm Syndrome- where Gina has fallen in love with her abuser a.k.a Lydia. Lydia laughs this off as only Lydia would. 'Oh Gina if you keep babbling your mouth, you're going back downstairs into my dungeon of death,' she thinks.
They talk about Susie. Gina knows Susie well and says that during let's call it 'cunt-gate' of season one, she vented to Susie, so thinks maybe Susie has only heard bad stuff about Lydia. Lydia says Susie is always attacking her and has a face. A FACE. Gina says Susie thinks she moves through friends and reckons Lydia has dropped her.
¯\_(ツ)_/¯
Lydia says Gina and her are closer now then they ever have been. We find out this is because Lydia keeps Gina locked in a dungeon beneath her house and only releases her out once a week. That's why she dresses like that! She is out of touch with reality! It all makes sense. Back you go, Gina! See ya next week.
At Susie's house with rich whitey sons Monty and Rupert, they are looking into online dating. They are putting together her bio, and will include that she is a screaming drunk, kills animals and listens to Elvis. She got a like! It was probably Ted Bundy or some sexy psychopath.
Maybe?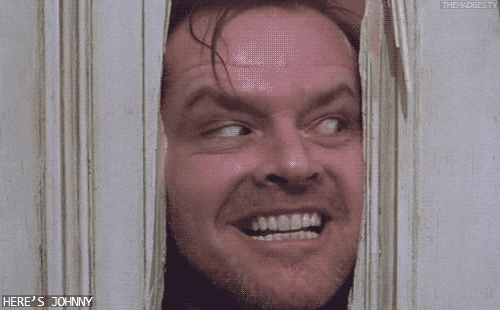 This show is getting DARK quick.
But wait, Janet is going on a DATE. She meets at a fancy restaurant with Christopher, whose hair looks like a mistake. Janet wants a chardonnay and he says "you are speaking my words already". He doesn't know a lot of words. His compiled a short list it seems.
Janet says she wants to date around to spread her seed – plans on dating every colour of the rainbow. She should just eat a packet of skittles instead.
Look out men, @JanetRoachHW is on the prowl! #RHOMelbournehttps://t.co/fDSy72eOqH

— Real Housewives Melb (@RHOMelbourne) March 13, 2016
The convo is AWKWARD. He is river-dancing under the table and rubbing his thighs in some weird mating ritual. Christopher says he cooks and cleans. WOW. He is basically a grown-up human. They agree they like holding hands and Janet holds his hand. Awk-city. He is a bit of a dick. They agree on another date…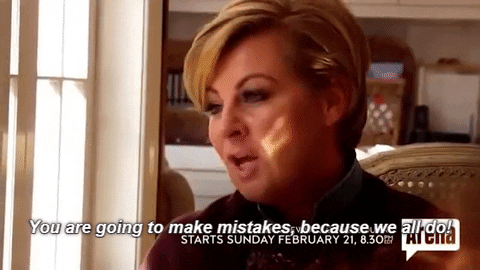 That's right, Chyks!
All the girls arrive for Gamble's bridal shower. They are all wearing their old wedding dresses. Chyka looks like an old and soured meringue from the 80's…
In further evidence that Bruce is a straight man in the body of a gay queen, he somehow liked it?!
Pettifleur looks fucking hot. Her dress is beautiful and she reminds everyone how slim she is and how she doesn't age. Giving more reasons for the girls to hate her insides.
Susie's in an old Alex Perry number. It is errr a bit 'Disco Barbie'. It bruises her ribs to wear it, while it hurts my eyes to see it. So many diamantes. Make. It. Stop.
Disarming seeing the girls in their wedding dresses ???? Stunning party @chykak @RHOMelbourne #RHOMelbourne @Foxtel pic.twitter.com/3h7wyyTpHF

— Gamble Breaux (@GambleBreaux) March 13, 2016
Janet made her wedding dress into a quilt – as you do – so she doesn't have one. Wears another white dress just lying around. Looks gorg.
Lydia's in Dolce and Gabbana because she is THE RICHEST. Her dress resembles every character from The Sound of Music.
They talk about how Gamble has invited Brian. Lydia says Brian has a 'viagra draw'. Okaaaaay.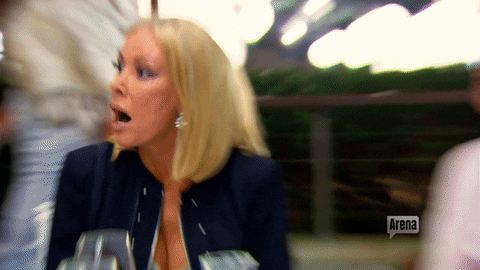 Talk turns to Janet's date with Christopher. Chyka calls Janet a big ol' slutarella for dating two boys – Brian and Christopher – at once.
Everyone is talking about their offspring. Gamble says she wanted a child and gets upset. As Gamble cries, Lydia comforts her.
DON'T DO THIS TO ME!! Have another cocktail, Bambi!
Lydia starts telling a story about her stepson. Susie cuts off Lydia to tell a sadder story about a quad-bike accident where her son almost died. Pettifleur cuts off Susie to tell a sadder story about her father never walking her down the aisle. Pettifleur's not very good at this game.
Jackie says her story is shit and she just wants attention. Pettifleur reminds us that she had to have her second marriage in Las Vegas. Did you hear that, Jackie? Vegas! You can't get past that level of trauma.
Everyone is getting along. It's tedious. Jackie is bored, like us all.
And we agree @JackieGilliesTV #RHOMelbourne pic.twitter.com/D5ZvemVVHA

— Real Housewives Melb (@RHOMelbourne) March 13, 2016
But then Lydia pulls Susie aside. YAAAAS. Lydia says their is tension and doesn't understand what she did. Susie brings up the rumours that she was sleeping around and her ex-husband said it was Lydia spreading it. Lydia is shocked and thinks "she's making shit up".
Lydia keeps saying she doesn't know Susie. Susie says they have for known one another for 30 years. Lydia keeps forgetting her name. Sandra? Shaneqa? Sister Mary Francis?
They draw a line in the sand. They are recycling their friendship. By that, we know it means their friendship is being binned. Lydia does not like her or her constant friendship that she doesn't remember.
This is rich lady wasp language meaning: DEATH WILL BE SWIFT.
Stay tuned…