Shine, shine, shine! The rich, shiny ladies are back.
Starting the episode with a series preview tells us….DDD-Drama is coming.
But wait, new opening catch phrases for all!
"I'm not everyone's drink of choice, but I'm my cup of tea," says Janet. "Yes I'm a flirt but home is where my heart is," says Lydia and "Honesty and integrity are my favourite accessories" for Chyka.
WHAT DO ANY OF THESE SENTENCES MEAN??
No time. We open with Prada, fancy rich food, fancy river, fancy sky, and then we're at Chyka's fancy house.  She's with her definitely not gay husband Bruce, helping Chyka accessorise – no comment. They have been to Europe for eight weeks because MONEY.
Now onto Chyka's new book club, Jackie, Janet and Chyka are there and plan to drink a bottle of champagne each; this sounds like my kind of book club.
But here's Susie, the new house wife enters book club. But what do we know about new lass, Susie McLean?
She has pegged herself as the 'country girl turned Toorak Housewife', the socialite is a single mum of two and already knows Gina, Janet, Lydia and Chyka. She was a footballers wife – for five months – being married to former St Kilda Football Club president Roderick Butterss From February 2009 but separated in July 2009.
She's no lazy Susan either (BAZINGA) she is passionate about sport (we see her playing golf, ballet-ing and stretching in park) and is President of the County Womens' Association's Toorak branch- so we know she knows her way around a kitchen with sharp pointed objects and can make any finger sandwich her bitch.
Oh and her sons are called Monty and Rupert – the whitest names ever to grace a television screen. Awkward staged banter between the fam and we're back at book club.
Jackie quickly reminds everyone 'Ben has been in the studio', because PROFESSIONAL ROCKSTAR.
Pettifleur appears – dressed as a polar bear cosplay character – for lunch with Lydia who are totally legit friends. Back from overseas, Lydia has got quite the travel scoop: 'London is just an incredible city'.
LIFE. CHANGED.
Pettifleur brings up Shane Warne because ratings. Pettifluer starts to egg on Lydia asking: 'How would Andrew take it?' Lydia is confused and brings up John Howard and her urges to clip his eyebrows.
We find out back at book club that Shane Warne propositioned Janet, asked her to come to his place for THE SEX. The girls deem the offer a "booty call". Lydia finds out and was not happy about it.
News just in: Janet and Lydia are in a Twitter war. Shots have been fired. Janet apparently called Lydia a "lying cow" and a "Lydiot" (good one, stealing this). Lydia keeps calling Janet "grandma". Not cool.

Pettifleur is bitching about Gamble, saying that she found out that Wolfy is from SugarDaddy.com and that's how the two met. She also blames Gamble for receiving a legal letter regarding her blatantly plagiarized book title. Thinks Gamble controls the underworld. Lydia says they should just chill, offers this gem of wisdom.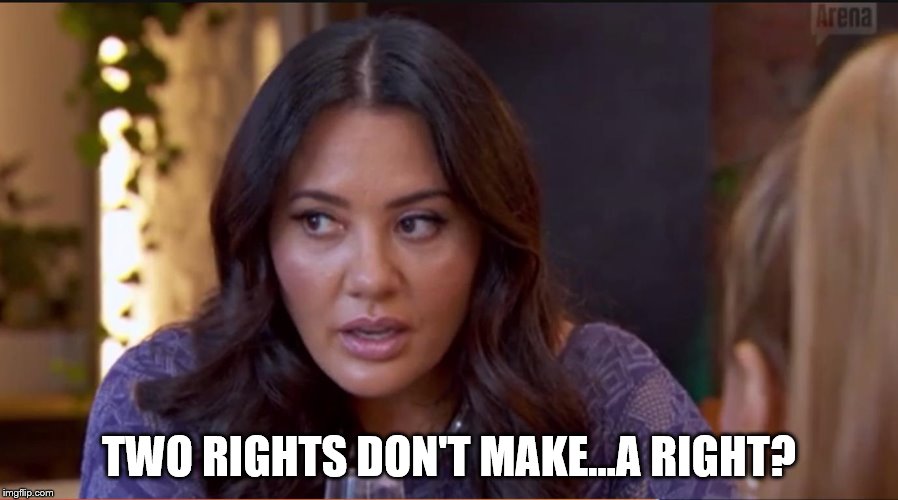 Goes cross-eyed trying to figure through the minefields of this moral equation.
We're at Gamble's house, wedding talk with Wolfie that gives no fucks whats soo ever, calls him a "naughty pup" (ewww), and talk about prenups because MONEY.
The wedding dress designer comes over. Gamble horrfies him with her ideas. She wants a dress made of pearls. Chinese opera theme. Shanghai 1930's. Wants to cut her cake with a samarai sword. Sounds do-able.
She is inviting Pettifleur, but adds on: "She's an asshole darling". I THINK SHE'S FOUND HER MAID OF HONOUR.
HERE'S GINA. Saying that she's soo damn busy because she went on Neighbours for two seconds and was on Celebrity Apprentice for a few minutes. She is also working on a fragrance and compares herself to Kim Kardashian. Is Gina Australia's answer to Kimmy K? Looks like it.
Andrew is here with Lydia. He is alive and exists and is still married to Lydia. She loves "men in creams" and then Andrew brings up the S-word….Shane.
Who cares, here is FIGARO. He's as confused as the rest of us.
Professional rockstar alert! Ben asks Jackie questions he's been told to ask her. They talk about Janet and Shane Warne 'sexting' and the Janet/ Lydia war. Jackie's mum is coming down and they think it's about babies. Then Ben gets a "chubby" from all this baby talk. Bringing life into the world is such a beautiful thing.
Lydia is selling her Porsche and is carless. Lydia is making her house cleaner Joanna drive her around so they can talk about sponges and washing liquid.
Joanna is THRILLED.
They go driving together and Lydia sits in the back like Joanna is a leper or they are acting out a scene from Driving Miss Daisy. Lydia is generally being a Lydiot.
Chyka and Bruce are not happy with their daughter. Bruce gets sassy and is frankly sexy AF.  Feigned drama, tough love etc move on.
Lydia and Gamble go to lunch. Lydia gives even more insights about her worlds travels:  "England was amazing, the country side!" Yep.
Janet is is wrongan. Words are being created. Now Lydia is saying to Gamble all that Pettifleur said at their lunch.
Shady lady.
Lydia tells Gamble about the SugarDaddy.com website rumour. Ffs, is this going to be 'rumourgate' all over again?
Too old for this shit.
All the ladies are together for new gal Susie's baking club. They are all baking now without touching a spoon. Lydia and Janet do not hug. Janet pulls back.
IT'S ON LIKE DONKEY KONG.
Gina and Pettifleur are some how friends now and possibly lesbian lovers. Boobs are fondled, friendships are mended, prickly pears are peeled. Pettifluer's son has left home, she is feeling petti-poor but she isn't petti-sure she should reach out to him. Gina is being nice. This episode is confusing.
New gal Susie asks Lydia if Shane Warne and her are "bonking"? She replies that last night she "fucked" Andrew. And with that gem we are transported to an episode of Ab Fab. Ladies please, not in front of the scones!
Lydia throws the shadiest shade at Janet. Says she is surprised Shane Warne would go after Janet because he likes them young. Oh no, she better don't.
Gamble and Pettifluer fight with Lydia's help. Shady lady Lydia pisses off Pettifleur and then calls her a bitch to say sorry. It's going well.
The rest of the girls are badmouthing Lydia. Looks like Lydia is the villain for this season. Not surprising. Just look at the sadistic monster…
New girl Susie does not like Lydia, they got a bad history apparently. Gamble storms out. Awkward silences all round. Cheers to FRIENDSHIP.
Pettifluer says the line of the season…
AND WE'RE DONE. It's been real.