In an attempt to find buyers for his second-hand car, controversial Aussie tennis star Nick Kyrgios has taken to Facebook in search for potential buyers. With an audience of over 250K fans and totally no care in the world for his image or the consequences of his actions – why the hell wouldn't he?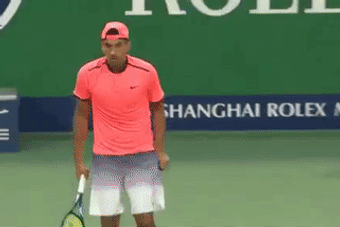 It's certainly a cheaper option to most online services. I guess when you've only got a cool $4.2 Million in prize money and a fresh $280K payout from the Miami Open sitting in the bank, times are tough.
Nick wrote to his fans, saying:
Alright – I don't usually post stuff like this on social media… but special exception this time… this was my first car I ever bought, owned from new. The time has come to let it go:
BMW F80 M3 2015. As mentioned earlier – owned from new, 1 owner. Meticulously cared for, regularly serviced, paint protect, only 16,000 km, near new tyres, immaculate car, bone leather interior. Anyone that is seriously interested, email xpistos07@yahoo.com to arrange an inspection.
As a result of this spectacle, thousands have flooded his page and inbox with an onslaught of heckling and it's bloody hilarious.
"Thanasai banged your car mate" reads one comment, in reference to the Kryios' infamous sledge to Stan Wawrinka.
Here's a taste of the comments that follow – check it out Facebook for the latest.