This season of 'Married at First Sight' is quickly morphing into a legit telenovela. There's been infidelity, wife swapping, accusations that contestants are paid actors, and we have finally reached peak ridiculousness with a seemingly staged pregnancy test photo shoot.
Appearing in the latest edition of Woman's Day, plastered across the front page is a bizarre AF photo of MAFS' bride Nadia being 'caught out' buying a pregnancy test. Seriously, it's soo cooked, she should at least score a Logie nom for her performance. It's inspiring stuff.
It doesn't take a media guru to assume the picture was staged, and that Nadia is probably getting a cut of the price such an image would attract.
But wait… NO WAY. GO HOME. YOU'RE DRUNK. It is in fact a legit photo caught in the act, well, according to Nadia. Appearing on Brisbane's HIT 105 breakfast show, the part-time model denied any claims that the image was prearranged with a publication.
"Yeah, so um that's obviously — I'm not pregnant, that's number one — number two, who hasn't ever bought a pregnancy test? How they got those photos, I don't know, that's the thing … it's a situation where photos do get out, you know, when you go on these shows," she said.
Errrr, huh?!
She was then put on the spot, as the radio hosts connected her with listener Brooke, who claimed her friend worked at the supermarket the incident took place. According to the friend, Nadia had walked into the store with another woman with a camera around her neck, as the pair made "a beeline" to the pregnancy test aisle.
To this, Nadia responded with:
"Oh my God … That's right. OK! So there are people watching. Thanks Brooke," she muttered in reply.
Errrrr, you wot m8?
Osher Gunsberg tried to offer the reality star a lifeline saying, "I'm happy to admit I've absolutely staged photos for magazines. It's no secret in the industry it happens," 'The Bachelor' host said.
"But if a photographer followed you into the supermarket, and photographed you on private property, there is no way the network publicity machine wouldn't have shut that down.

"If you're on a show that's still on air — Nine Publicity would have been all over that."
Again, Nadia babbled on about meaningless nothing.
"Absolutely — and that's not like, it's, I mean that's full … that's the thing. There's things that pop up and things that come out — and yeah, that's playing with fire," she said.
????????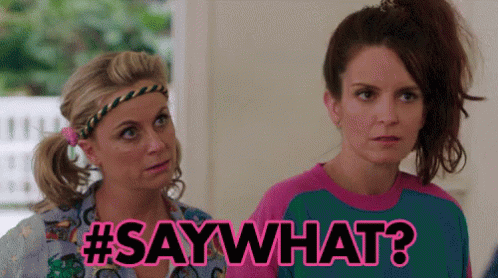 When asked straight-up whether she was pregnant she replied, "Well, you know, as I said. I can neither confirm nor deny," she said.
Okay, whaaaaaaaaaaat?! She had already denied it in the same convo.
Who the hell knows what is actually going down?! Well, Nadia.