What on earth were they thinking? How the hell did this get approved? Who cares.
We are so grateful the Department Of Finance's 'Game Changers' graduate recruitment video exists because it is perfectly awful and hilarious. Those of us who dare to meme would even go as far as calling it 'dank'.
Having blown nearly $40K on this beautiful piece of stock-image inspired art, the department decided there wasn't going to be enough cash left in the kitty to hire proper actors and a script writer.
Instead, they gave real-life staff the call-up to awkwardly interact in cliché office scenes. The poor buggers, despite their best intentions and likely lack of consent, are now the face of a nationwide joke. TheVine thanks you for your sacrifice.
Let's roll the tape:

Produced by Together Creative, we are actually wondering if the whole thing is a clever exercise to get us talking. In which case, congratulations – you're trending! Alas, we feel the APS probably lacks that kinda' sense of humour and creative gusto. In which case, their faces look something more like this: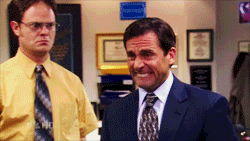 The scenes include some of our favourite office scenarios and quotes:
THAT PERSON WHO'S ALWAYS TRYING TO IMPOSE THEIR FANCY FOODS ON YOU:
THE FEELING WHEN YOU CASUALLY CALL YOUR OFFICE BUDDY – 'BUDDY':
WHEN THEY ASK YOU TO PLAY THE TOKEN NON-WHITE DUDE AND THE PAY IS GOOD
WHEN JENNER ALWAYS GETS THE PROMOTION OVER YOU:
Congrats Department of Finance #auspol @BuzzFeedOzPol pic.twitter.com/yoLcOnVkAM

— Suyog Sankhe (@suyogsankhe) March 1, 2017
I have some bad news. There's no paleo pear & banana bread at the department of finance. Just $4 banana bread. pic.twitter.com/Z0zNN1QNFw

— Alice Workman (@workmanalice) March 1, 2017
BUT the department of finance cafe does have a $17 paleo breakfast! pic.twitter.com/Zvc2hhwxBx

— Alice Workman (@workmanalice) March 1, 2017