The Gilmore Girls revival finally happened, leaving many of us glued to our Netflix screen over the weekend surrounded by enough food to feed a small village in Estonia. Reactions have been mixed – but overall positive. It's the kind of series that's difficult to appreciate after its first watch. On second viewing, it becomes even better.
But it's far from perfect. There's some serious faults that should have been addressed, along with some amazing parts. So we've compiled a list of the best and the worst of Gilmore Girls: A Year in the Life.
The Best
The evolving relationship between Emily and Lorelai
The storyline that followed the changing relationship of Lorelai and her mother Emily made the entire revival. The conflict between them always felt real and earnest, and as the two attended therapy together, it showed an interesting dynamic in the way that grief can act as a catalyst for reassessing ones life and family.
In the aftermath of her husbands death, Emily's character was taken on the biggest journey. This was a joy to watch, partly because Kelly Bishop is phenomenal and because the writer took her in an unexpected direction.
Following in the footsteps of rebellious Lorelai, Emily spectacularly quits the DAR, moves out of her stuffy house, and over to Nantucket, and even started working at a whale museum (still terrifying small children). When explaining her decision to move, she tells Lorelai, "Sometimes life forces your hand." In this vein, the change in lifestyle – and a shift in her personality, becoming more caring, empathetic – seems to be a positive result of the tragic passing of her husband.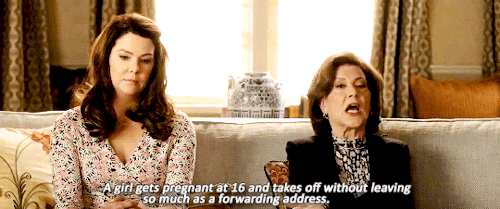 Not everything changes, like in the series' pilot, it ends with Emily blackmailing Lorelai. She tells her daughter that if she lends her money to upgrade the Dragonfly Inn, Lorelai has to promise to visit her. But the difference is that Lorelai is happy to oblige.
Lorelai's journey is inexplicably connected to her mother, so much so that she can't move on with her life with Luke until she finally acknowledges that she was grateful for having Emily and Richard as her parents. She has a eureka moment while doing 'Wild', admitting to her mum her insecurities of not feeling like a Gilmore growing up.
It's a perfect arc for the two and a perfect ending, as Emily tells her daughter in their final scene, while smiling: "You look very happy".
Logan
This might be controversial but I found Logan more charming than ever, and if possible, even more attractive. I know technically he is a lying cheat, he's engaged to heiress Odette, while still hooking up with Rory. But damn it, he is looking hot AF.
What I particularly enjoyed was that the chemistry between Logan and Rory was exactly the same. She seemed the most at ease with him and you can really feel that he cares for her unconditionally. Yes, he is still rich, privileged and continues to use the world as his personal playground with the Life and Death Brigade. But every time he said 'Ace' my heart skipped a beat.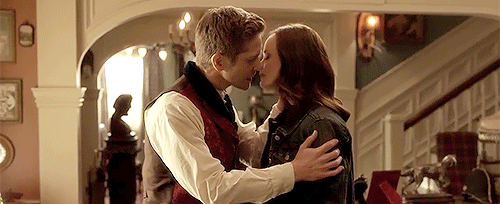 We find out some of the series' biggest mysteries
The writers really payed attention to what the fans had been saying about the series' seven seasons, and what left viewers arguing over with confusion. One of these was where Lane's father Mr Kim was all this time. Did he exist? Did he die? Was he estranged? Well this conspiracy was put to bed in the revival, as during the town's International Spring Food Festival, Lane says to Rory, "Oh, hey, my dad's here!" – and there he is! He's real! He's alive!
Another mystery the series seeked to solve was of Michel's sexuality. After years of speculation of whether Michel was gay or not – hey, I didn't really care either way – but within the first few minutes in the comeback, Michel was talking about his husband wanting to adopt a child. At least GG now has one LGBTIQA character.
Rory's career direction
Rory's journalism career was not what we all expected. Set up for success and always assumed to become New York Times material, it looks like it was not meant to be. After a few high profile articles published, including one in The New Yorker, Rory struggled to find consistent work. She ends up as the unpaid editor of the Stars Hollow Gazette, while writing a book about her mother/daughter journey. I think it was bold to not give Rory the career she had strived for, and its realistic. There is also a beautiful synergy, seeing Rory writing her book in Richard's study. *CRIES HYSTERICALLY*
Kirk, Michel & Paris are perfection
There are three people the series really got spot on. Kirk was one, as he continues to take on a bounty of career titles, this time around as an Faux-Uber driver. But because it's Kirk, he has his own business titled Ooober, and involves ride-seekers calling his mother to arrange a ride. He also has pig called Petal. Because, Kirk.
Michel is still rude and intolerable, which makes him all the more watchable. After years of dedication, he is leaving the Dragon Fly Inn. His sendoff scene is fitting, while interviewing his replacement, Michel asks, "Now, your name is Molly. Why?". Perfection.
Paris is running surrogate agency Dynasty, terrifying Chilton students and quoting Stalin. She is still hilarious and my favourite person ever. We see her vulnerable side too, as she breaks down when seeing her past crush Tristan and is having to deal with her divorce with Doyle.
Luke and Lorelai's wedding  
Despite having a wedding planned for the next day, Luke and Lorelai decide they can't wait and want to get the marriage part over with. It's instigated quite casually as Lorelai says,"It's bingo night. Reverend Skinner's open awfully late on bingo night".
As they head down to the town square, Stars Hollow has never looked so beautiful. What makes the moment extra special, 'Reflecting Light' by Carole King plays, the same song that soundtracked Luke and Lorelai first dance at Liz and TJ's wedding.
Lane, Michel, and of course Rory are the only guests. As the camera moves to see Emily staring at Richard's portrait, before walking outside smiling and peering up at the stars. It's the perfect ending and I cried hysterically and unapologetically from start to finish.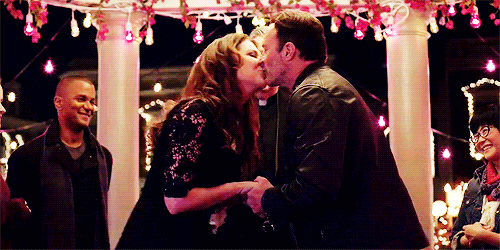 Worst
Stars Hollow: The Musical
This is just bad. Wrong. Terrible. The musical itself is okay, although it gets about triple the screen time it should have been given. It's funny at points, but it is the town's reaction that is wrong. The Stars Hollow community is known for one thing: every one makes fun of Taylor. It's a fun past time that Lorelai usually spearheads. Yet in this situation, when faced with an obviously terrible musical, Lorelai is the only one that recognises Taylor's mistake. She's the odd one out.
This just sat weird with me. Further compounded, as Carole King is one of the townies that seems to love these awful songs. This is completely inconsistent with the role she's played in the series as a snobbish music shop owner. In addition to this, the conflict created between Lorelai and the starring singer is just random and unnecessary.
Fake Chad Michael Murray  
Don't be fooled. That is NOT Chad Michael Murray. The setup has Rory and Paris returning to Chilton, when Paris spots Tristan(which was originally played by Murray), she quickly freaks out and fleas to the bathroom. After watching the scene over and over, it's pretty obvious, it isn't actually ol' Chaddy boy. Instead, in his place stood actor Anton Narinskiy.
Who knows why? It could be that producers couldn't get the actor to return for such short a stint, but it's more likely they didn't want to pay the One Tree Hill star for such a blink-and-you'll-miss-it cameo.
Rory is still selfish and has possibly become an alcoholic
Rory doesn't look great in A Year in the Life. She is still somehow dating Logan, even though he is engaged to an heiress and she has a boyfriend. Sure, Logan is cheating too but we've been here before with Rory. In season 4 she cheated with Dean – a married man at the time – and never really acknowledged what she did was wrong.
Add on to this, the way she is treating her boyfriend Paul; ignoring him/ forgetting he exists, all while seeing Logan and hooking up with random Wookiees. She's all over the place and doesn't seem to consider the feelings of others at all. This muddled lifestyle has led to Rory becoming somewhat of an alcoholic. She is chugging back hard liquor the bulk of the series, most often during the day. She needs help – and underwear.
There's not enough Lane and we find out nothing new
This is the absolute worst part of the revival. Where is Lane and how is her life?! All we find out is she still has two kids, she's still in Hep Alien (that song 'I'm the man' was kinda catchy but also kinda weird and meta). We see a handful of scenes with her and Zack, then with her mum and then supporting Rory as she rambles on about a fight with Lorelai. There is not a single scene dedicated to checking in on Lane, to find out her plans, aspirations, and to explore if she's happy.
The lack of Lane is extra glaring, as the series is actually pretty perceptive of its past critiques. One of which, was that Rory and Lorelai's BFF's deserve their own stories, aside from their friendships with the leading ladies. Sure, Sookie didn't get much story either, but that was because Melissa McCarthy is a busy superstar. Lane could have and should have been given the spotlight for once. #JusticeForLane
Where's the song?
This is all we were waiting for. As the weeks became days, which became hours, Gillys sang along to 'Where you lead, I will follow' – the GG theme song by Carole King. But alas, no song played, with each episode kicking off with Sam Phillips trademark 'La-Las'. Not okay.
Story lines left unfinished
Whether purposeful or not (come on, more eps!) a few of the plots were left open. There was no real conclusion on whether Luke and Lorelai would have kids. Paris and Doyle's divorce was not finalised. We never even saw Liz and TJ?! All we learned was that they had accidentally joined a 16 million year vegetable cult.
Finally, what was that confusing ending with Jess? All we see Jess do is talk about fucking Liz and TJ and give Luke bad advice. No interaction with Rory, where they talk about their past relationship. Nothing happens until Luke says to Jess "You're over that, right?" referring to Rory. While Jess replies: "Yep, long over," we then see him peek through the window and watch Rory longingly. WHAT DOES THIS MEAN?! That is not an ending. That is a mighty cop out.