Soccer fans are a passionate bunch and Masterchef judge George Calombaris, who is the number one ticket holder for Melbourne Victory, was rightfully not in the greatest of moods after his team's admirable loss to Sydney FC.
Last night's nail-biter, which resulted in penalty shoot-outs, wasn't George's only cause for concern. The restauranteur has recently come under fire from the Fair Work Ombudsman for underpaying staff at his delicious Melbourne eateries. This includes Hellenic Republic, The Press Club, Gazi and Jimmy Grants.
At the conclusion of last night's game, one ballsy, 19-year-old Sydney FC fan thought he'd rub salt in the wounds of his opposing famous friend. As ol' Georgey-boy walked around the sidelines from his prime positioned seat alongside famous food m8s Matt Preston and Shannon Bennett, he capitalised on the sighting and screamed out a killer jab at the chef.
In the video below, you can see the moment a heart broken Calombaris hears the teenager scream at him:
"pay your staff, you dodgy bastard"
This is returned with the death stare of all death stares, as George marches towards the kid and begins screaming. L-O-L.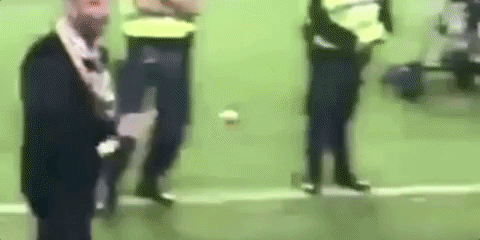 As George screams in his face, he grabs the bloke and gives him a big shove. That'll show'em. It's raw, it's passionate and it's so dumb – I love it.
If only MasterChef was this heated.
Check out the clip below: