As season two of the Bachelorette Australia draws to a close, there still doesn't seem to be one clear front-runner and TheVine jury is well and truly hung (yes, we said hung).
First and foremost, if you're in a rush – here's a snapshot of the odds as of 6pm tonight – check here for the latest updates (as these are due to change):
If you follow the money, tonight's finale is heading in Lee's favour (for now). In the lead-up to the Bachelor finale we saw Nikki overtake season favourite Alex in the last few hours. Not that it really mattered in the end cos #LoveIsDead.
We've been tracking the betting odds with Sportsbet throughout the season, where Lee's odds of taking out the grand prize have failed to rise above the $2 mark (that's a very positive sign for Lee). Similarly, the wagering business had Kristie Bennett as a favourite from the very early days of SurvivorAU, which was at odds with her performance.
If you're one for a good conspiracy theory, you could question if someone on the inside has a scoop we're not privy to.  Or perhaps it's just the fact that Lee from the onset was a) ridiculously good looking, b) one of the early single dates or c) conveniently located in Melbourne. Before the seasons dark horse Matty came from nowhere, there didn't seem to be any other authentic connections, so all eyes were on Lee, his semicircle face and perfectly chiselled abs.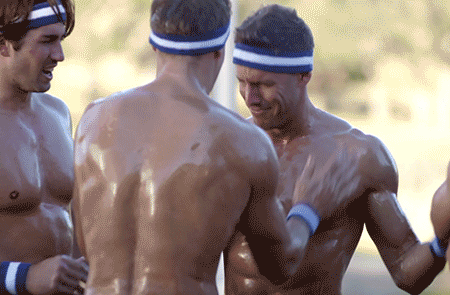 Current odds have Matty J paying a handsome $2.75, which is some serious value if you think he's in for a chance at Georgia's heart.
As it stands,  Matty is still the only guy to have dropped the 'L-Word' and in our opinion, seems to have way more substance to his relationship with the G-train. Despite the geographical distances, Matty is a fan-favourite.
A radio interview today also saw Matty terribly dodge a question about someone called 'Michael' which happens to be the code name for the winner. Matty hinted that he knew what people were talking about before it was explained to him. He then quickly deflected the question to say 'he was runner-up last year,' referring to former Bachelorette star Michael Turnbull. Meanwhile, Lee seemed to have no idea what the conversation was all about. This of course sent people into a tizzy.
We also reported this morning that fellow bachy Jake has backed his boy Matty as the winner. In an interview with Woman's Day, he told the magazine when asked who would win:
I am close with Matty J, we became close really early on. And Lee has such a big heart…. But I want Matty to win, he's just a great guy!"
Sure that means nothing, but fan are jumping over every word from the chat looking for clues.
And if you're really up for it, our man Osher is still in with a chance, paying out at $51. Sure, it's an outside shot – but it would be without doubt our preferred way to finish up the season.
\\ PLEASE NOTE: Sportsbet are currently advertising on TheVine, but did not pay for this article. If you decide to gamble, please do it responsibly and head to Gamblers Help Online or call 1800 858 858 if you, a friend or family need help.