A few weeks back, someone threatened Lil' Wayne that they'd induct him into the celebrity sex tape hall of fame, claiming they had vision of his '6 foot 7 foot' involved in a three-way romp.
Well, today's the day that said video has landed online and the Louisiana rapper is not 'o-o-okaaaay' about it. In fact he's lawyering up and about to sue the socks off everyone involved. But the story could be meatier with claims this all part of an ongoing falling out with Birdman, his business partner.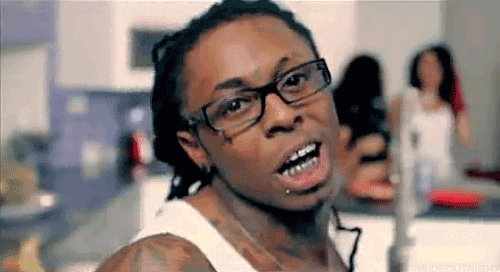 The tape was reportedly leaked by a site called Diary of a Hollywood Street King, which allegedly shows Wayne enjoying himself getting friendly with a few strippers (or in their own glorious words "One chic is straddling Weezy's face and the other chic is rid'in him").
In typical celebrity sex-tape fashion, the grainy footage is completely vague and lacks any form of clarity. Have these multi-millionaires not heard of an iPhone? How is it that this day in age they can't shoot a basic fucking video?
A snippet of the clip was uploaded to video sharing site Vid.me and also included some background on how it was released.
"Last month, Vivid Entertainment was presented with a four-minute clip of the Lil Wayne's sex tape. After viewing the sex tape, reps at Vivid immediately called their alliance over at TMZ and sold the story.

"Everyone knows Wayne's a source for TMZ. That's why TMZ immediately got at Wayne, telling him about the story. Once they hipped Wayne, he said: 'If someone sells a sex tape of me with my socks on, I'll sue.'"
According to the Inquisitr's report, the site implies that Birdman, the record executive who has been at odds with Lil Wayne, could have something to do with the video's release and things have gone a little bit sour in the state of affairs, like they apparently want to kill each other because #BusinessManagement101 right?
Birdman And Young Thug Reportedly Tried To Kill Lil Wayne… http://t.co/2lTCZoJhiK pic.twitter.com/EtT6IOT7tu

— Amazing Facts (@RealFactsTBH) October 11, 2015
Watch this space as poor 'Weezy' tries to get to the bottom of things, sue everyone and battle his business partners in a life-or-death showdown.