The Bachelorette's Rhys Chilton isn't a fan of Georgia Love and he's making an effort to let everyone know because, well, he's Rhys.
---
Evil villain, proud topless model dancer and self proclaimed poet, Rhys Chilton didn't win over too many fans on The Bachelorette Australia. At least he delivered some Harry Potter references – I guess?
After getting all desperate, gooey-eyed, reading lame poetry and telling Georgia Love he was "on the show for the right reasons" (to win over her heart), Rhys suddenly pulled a remarkable backflip during a 'sudden death' double date with arch rival Sam.
When Love told Rhys that she was looking for a serious romantic partner (because in the real world it's impossible to do this while also having a career *sigh*), he admitted he only seeks casual encounters which required no future plans (WHAAT?!). It was a shock, but sort of an unsurprising dick-move, that would see him packing his bags and picking up some Spring Carnival Birdcage passes on the way out the door.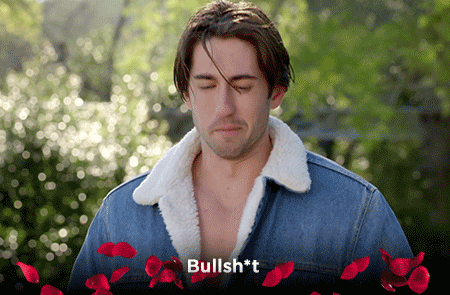 But having left the show in spectacular fashion, Rhys is making an effort to diss our girl Georgia Love on social media.
As far as we're concerned – the dude was a desperado trying to win her over until he came to the realisation that our Bachelorette queen wasn't vibing on him. But he isn't taking the loss lightly. At least on social media that is.
Yesterday he posted the following pic pointing to a poster for Ten's show 'The Wrong Girl' alongside an ad for the Bachelorette. The caption read:
Hahaha there are sooo many captions I could think of here.. but I'd love to hear some funny ones from you guys! So caption this for me?
That's not the only dig he's made since switching his Insta account to public. This image earlier this week sees him clutching at straws to justify his wanky promo shots.
"At least the flowers on this shirt last more than a week right? Am I right? 😂😂🌷🌹" , reads the caption.
Oh – we get it dude…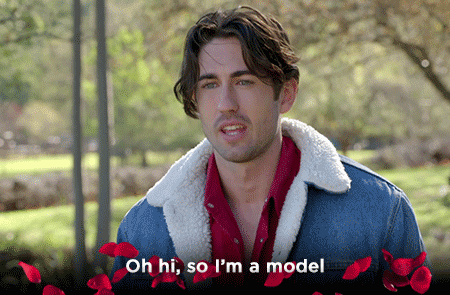 But according to Rhys, he's just playing a role that was set by the producers on the show. He recently posted an image with fellow Bachelorette contestant Tommy, explaining that the producers kept him around to fuel the banter.
Lastly to anyone who watched the show and think you know me… you don't. I was basically on air as a rival to Sam for your entertainment. Sam is a good guy and we just had good banter on and off air, it's a shame however that instead of focusing on Georgia's quest to find love, I was involved in what I think was a public endorsment of bullying.

To anyone out there who has been bullied or abused, chin up. Just remember that those people attacking you are actually taking valuable time from their lives to focus on you. How sad must their lives be. So keep being you and let the haters hate. In the end you'll come out on top!
Righto. We'll leave it to you to make up your own mind on ol' mate Rhysy.